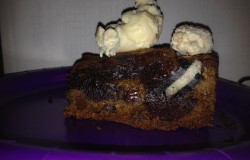 Posted on January 28, 2012 by Chloe in Food We've Made.

No really…I mean it. Finding a dessert recipe our brother will eat isn't easy.  He's a meat-and-potatoes kinda fella. He's not big on chocolate, but he does have a weakness for Oreos so that's why I wanted to try this one.   We weren't feeling very patient and using boxed mixes is much quicker. We [...]

No Comments. Continue Reading...