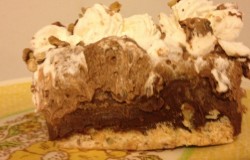 Posted on May 29, 2012 by Victoria in Food We've Made, We Did It!.

We were trying to come up with a good name for this recipe and someone suggested it looked like another recipe with a name I prefer not to say. After a lot of thought I thought Heaven in a Pan was a perfect name for this dessert.  My mom and I made up the recipe [...]

5 Comments. Continue Reading...